 Supply chain visibility and optimization through real-time cargo monitoring
With IoT enabled real-time cargo monitoring and tracking we uncover inefficiencies in the flow of goods, finances and information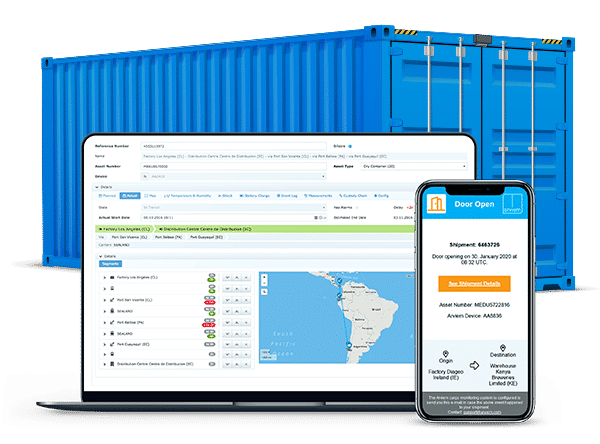 We give you the data and the tools to optimize your supply chain
We provide multimodal in-transit supply chain visibility allowing our customers to understand what's happening throughout their extended supply chain. With our actionable insights, clients can develop cost-saving strategies, optimize their supply chain, assess performance, and identify bottlenecks. Our analytics dashboards provide intelligence to improve strategic decision making and daily operations. Unlike competitors offering supply chain visibility services on the market, we 

guarantee a minimum of 150% ROI on our cargo monitoring and supply chain visibility services

.
Z Develop cost-saving strategies
Z Decrease logistics costs
Z Improve inventory management
Z Optimize working capital
Z Prioritize cargo inspections
Z Reveal cargo mishandling hotspots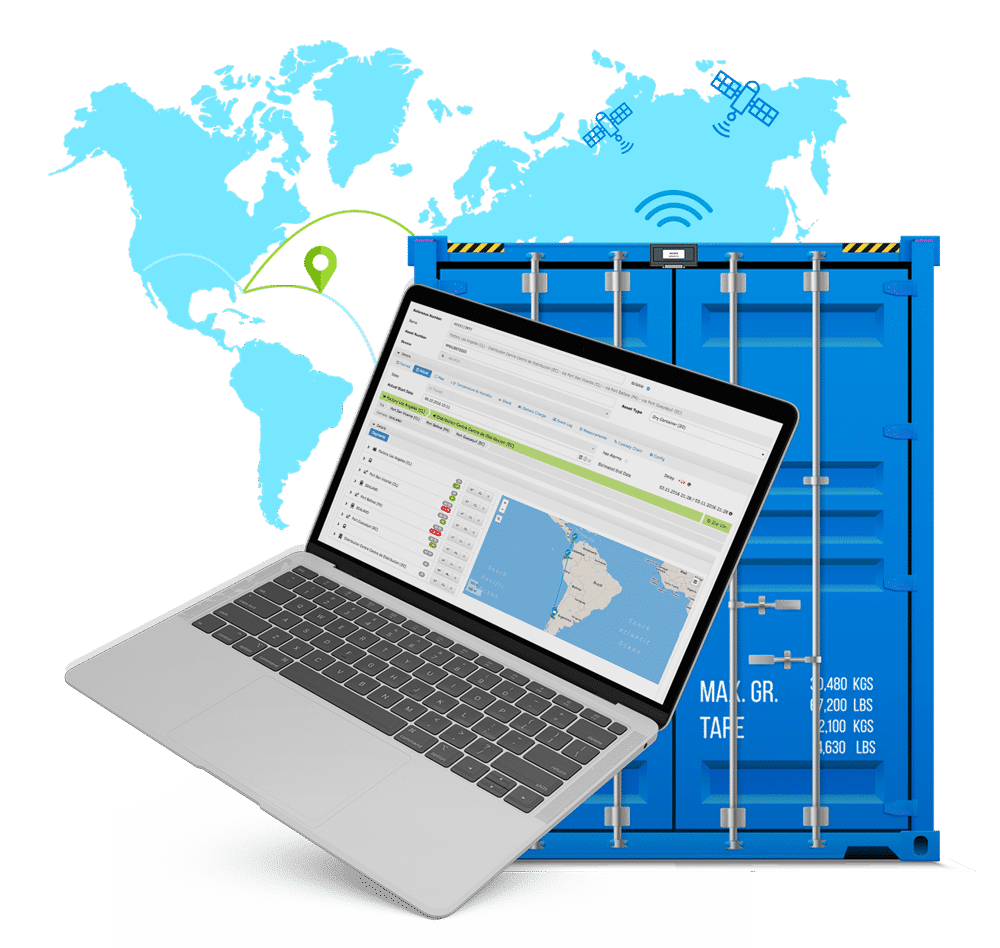 Cargo monitoring in real-time to collect reliable data
We collect data and uncover supply chain blind spots by installing automated locating and sensing technology on multimodal containers and cargo. We provide real-time, carrier independent data on the location and condition of cargo during the whole journey of the goods from the point of manufacture to the point of delivery. We offer cargo monitoring as a fully managed service, including cargo monitoring devices, access to our data analytics platform, and device logistics and maintenance.
Z
Real-time location and predictive ETA
Z
Geozone entry/exit
Z
Temperature and humidity
Z
Door opening and light intrusion
Z
Shock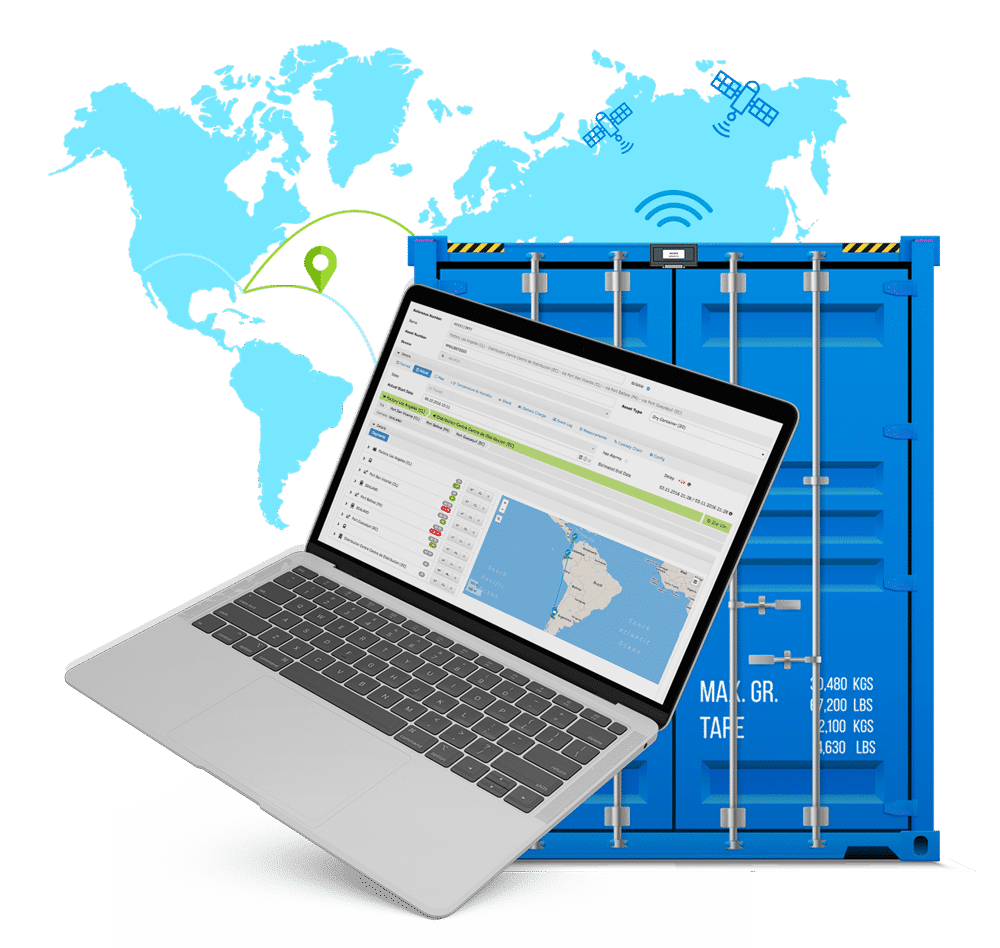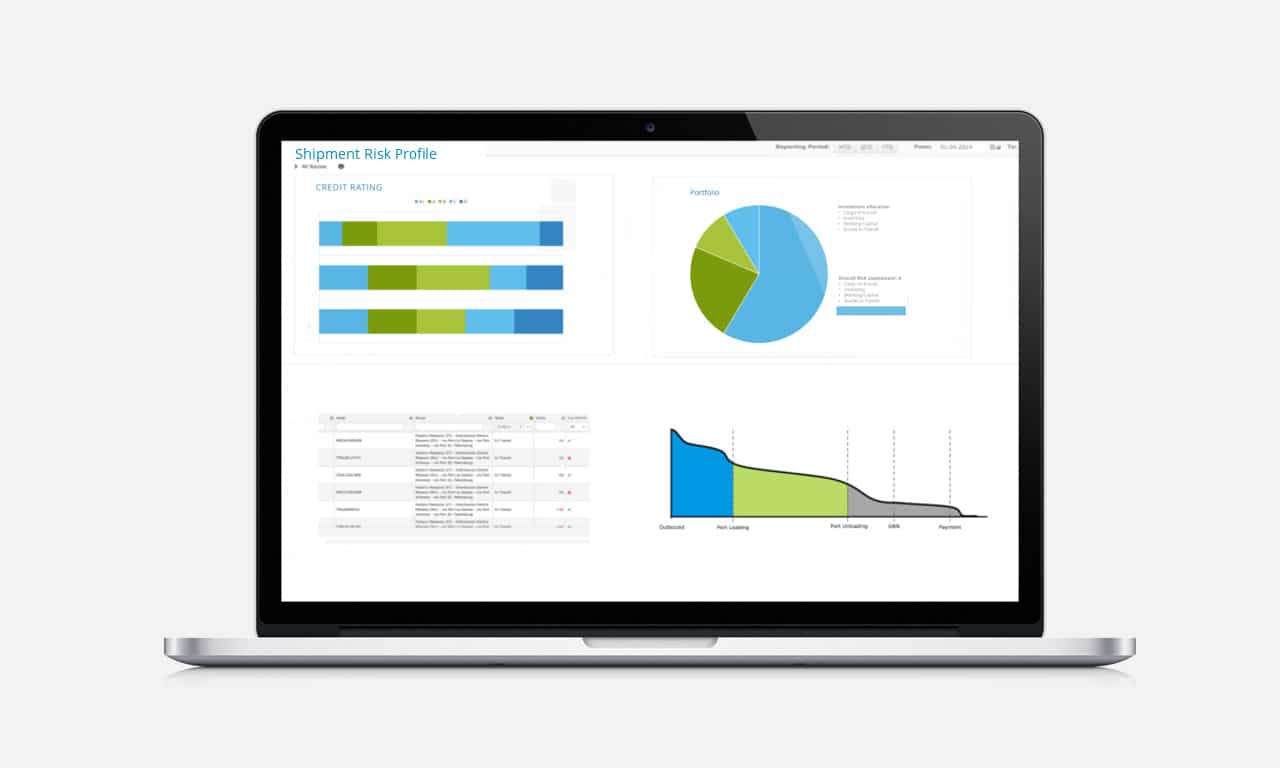 Working Capital Financing
End-to-end transparency paves the way for significant working capital optimization. First, safety stocks can be reduced and work-in-process inventories allocated efficiently among the supply chain. Second, Arviem's innovative supply chain finance services for goods-in-transit can be accessed.
Gartner listed Arviem among the market-leading vendors in tracking and monitoring for real-time visibility.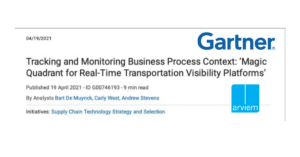 "Arviem receives 'Best New Supply Chain Finance Provider – Nonbank Europe 2020 Award."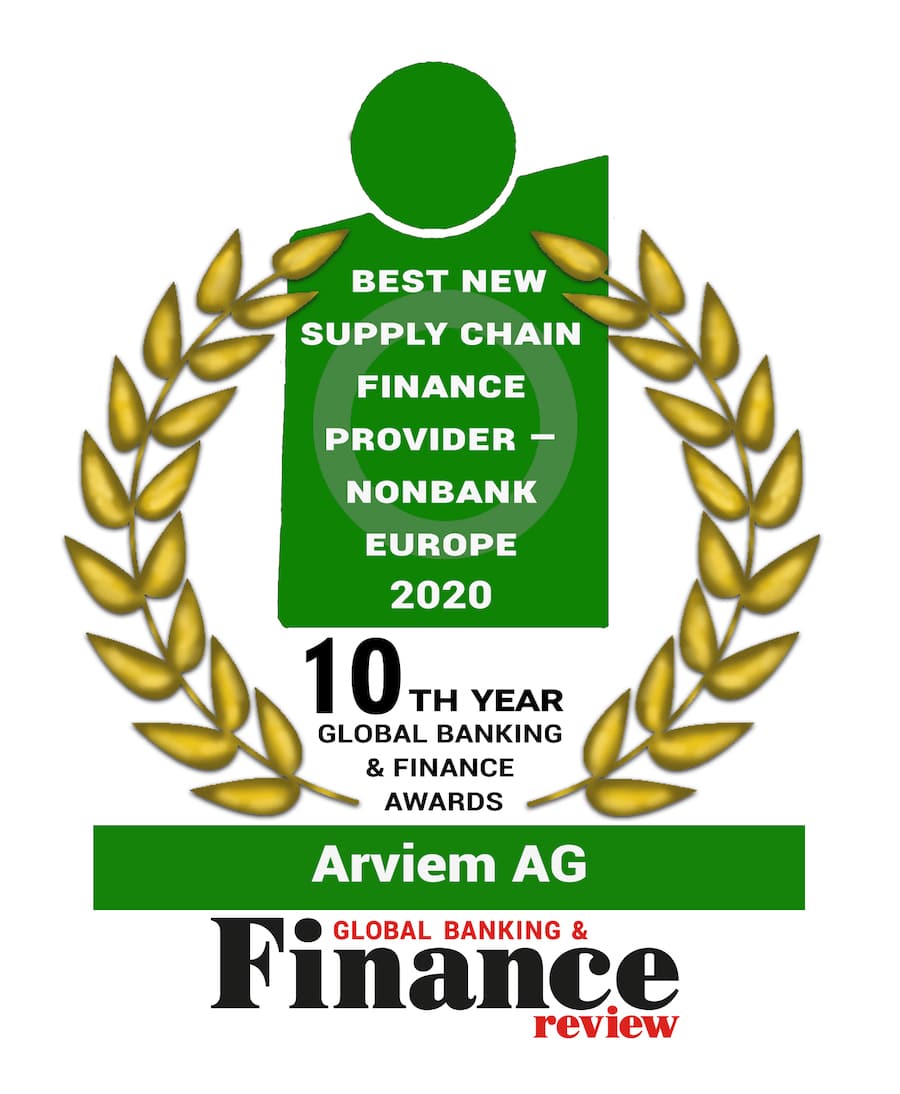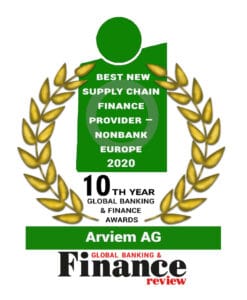 "Our CEO - Stefan Reidy's article published by Global Maritime Forum explaining how the pandemic will ultimately sort companies into two categories. The hopefuls, and the proactive!"
"Arviem is expanding with newly elected board members who will share multi-dimensional expertise in shaping Arviem's future."
"Arviem has been having shipments in 106 countries now with hassle-free reverse logistics operations supported even at exotic locations."
"So far Arviem has monitored more than 10,000 legs with more than 170 ports involved and +3 billion events recorded."
"Arviem opens a new logistics hub in Australia joining 15 hubs globally."
A complete cargo monitoring and supply chain visibility service
consisting of three components
Arviem offers supply chain visibility and cargo monitoring as a complete service. Unlike competitors offering supply chain visibility services on the market, we guarantee a minimum of 150% ROI on our cargo monitoring and supply chain visibility services. We provide 100% independent and trustworthy visibility of your shipments whether on land, sea, or air. We have capabilities to provide both location tracking and condition monitoring for all your shipments globally.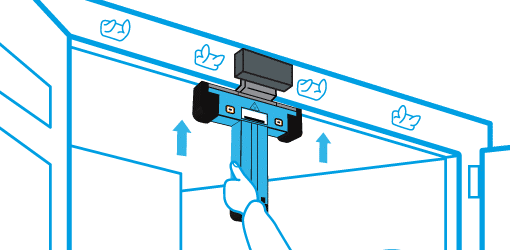 Data through monitoring devices
Monitoring devices are attached to the cargo at the point of loading and collect information while the cargo is in transit. They transmit data in real-time to the analytics platform. Devices measure humidity, temperature, light, shock, door opening, and GPS location. Our devices are best in class, with the reliability of over 99.5%.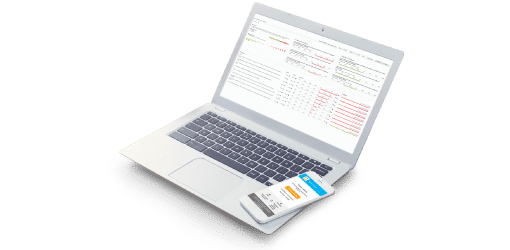 Data analytics and notifications
In the case of disruptions, notifications with actionable information are provided to clients. To support the decision-making process, Arviem's data analytics platform provides both a quick overview of the cargo in transit and in-depth analyses and visualization of the supply chain helping to uncover inefficiencies and logistics blind spots.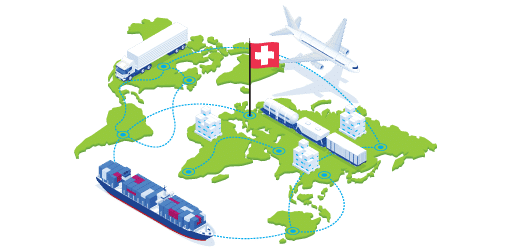 To ensure a carefree service to the client, device logistics and repositioning, maintenance, and repair are handled by Arviem's operations team as well as client support and the initial project set-up. Our global operations team ensures the smooth execution of projects from the initial training of your team to periodic project reviews.
Watch the video introducing our service
We serve beneficial cargo owners, exporters, importers, and manufacturers
Our customers are at either end of the supply chain; those looking to ship their goods and those waiting to receive. Our supply chain visibility and cargo tracking and monitoring solutions have proven advantages to industry sectors with high value or sensitive cargo.

Illicit trade, tougher and new regulations, safety and security, cost of waste – they can all be positively influenced by increased visibility in the tobacco supply chain.

Product recalls, quality issues, tougher regulations, new industry standards, rising costs – they're all impacting food and beverage supply chains across the globe.

The need for timely and complete deliveries, elimination of quality issues, delivery scheduling, insurance premiums are influenced by increased visibility.

Supply chain visibility is the answer to safety and environmental regulations, securing hazardous cargo, quality issues, new industry standards, rising costs in chemical supply chains.

On-time delivery, proper handling, and storage, security, damage during transport – all can be improved with increased supply chain visibility and cargo monitoring.
Let our clients speak for us
"Arviem is top of the list because of the basically best experience we have with tracking devices." "We have eliminated waste, reduced demurrage costs substantially and achieved timely product availability and product freshness." "We recommend Arviem's services to our clients." "Monitoring the location and environmental conditions of our shipments is a very important component of our stewardship efforts. Arviem provides us this capability." "The arviem supply chain control tower not only helped us to monitor the product quality, but also prevented us in spending lots of money by sending the assembly team at the wrong time to the customer" "With the arviem solution, we have identified great optimization potential. It is useful to have real-time visibility to the forces and conditions our products are exposed to, and this enables us to provide enhanced customer service" Arviem solves the challenges of obtaining visible and intelligent trade by offering real-time end-to-end cargo monitoring services. As the only full-service provider for real-time cargo monitoring on the market, Arviem provides exceptionally accurate location and quality condition monitoring of cargo throughout the global supply chain. Our leading-edge solution will provide global supply chain stakeholders with on-demand access to real-time, transport-related data.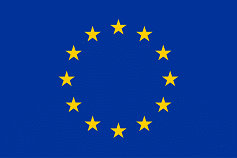 This project has received funding from the European Union's Horizon 2020 research and innovation programme under grant agreement No 885924