January, 2021 -The coronavirus crisis of 2020 has raised many questions and changed many things last year. The importance of reliable supply and logistics chains enjoyed wider public attention than ever before. Suddenly all of us became aware of this crucial, complex, and to me fascinating world of moving products from manufacturers to end customers globally. What used to be 'background noise', became the topic of global importance. Logistics and supply chain activities became a system-relevant operation on which people can rely so that life can go on.
The coronavirus has hit global supply chains in unexpected and unforeseen ways. Even during times when companies are operating as 'business as usual', a lot of information is needed to ensure the supply of goods efficiently. This is even more so during times of crisis. As a result of the disruptions caused by COVID-19, companies have realised that vital information is not always readily available or accessible across global teams often caused by the lack of transparency and visibility across supply chains. Consequently, their response to the disruption has been reactive and uncoordinated. Many of the companies were 'flying blind' during these disrupting times, having no idea where their goods are stranded, where do they have inventory in transit or when will their shipments arrive.
"The Covid-19 crisis is for many companies a wake-up call. COVID-19 has highlighted the growing need for visibility, real-time data, for cargo monitoring, and digital solutions, as well as general overhauling of the supply chain as a whole. I am happy that Arviem could support organisations by providing the needed supply chain visibility."
I am proud of how quickly our people adapted to the unforeseen circumstances while continuing to help our clients navigate these uncharted waters. Nothing proves this better than our positive results that show significant growth even during these challenging year. Let some numbers speak for us!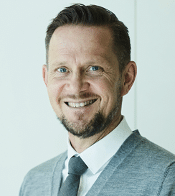 Stefan Reidy, CEO of Arviem