Zürich, Switzerland – January 23, 2019. Food Logistics, the only publication exclusively dedicated to covering the movement of products through the global food supply chain, has selected Arviem AG to join its Top 2018 Food Logistics Technology and Software Provider list. The annual FL100+ Top Software and Technology Providers list serves as a resource guide of software and technology providers whose products and services are critical for companies in the global food and beverage supply chain. Arviem's technology enables supply chain and logistics professionals in the food and beverage supply chain to take proactive measures towards efficient cold chain management through tracking and monitoring the conditions of perishable products in transit. This ensures that proper temperature is being maintained during the products' journey from the supplier to the buyer. Alternatively, if deviations in temperature or humidity occurred owners or the recipients of the cargo are informed and can take corrective actions.
"Being selected to join the annual Top 2018 Food Logistics Technology and Software Provider list is a remarkable milestone for our service offering. Ensuring regulatory compliance and preventing contaminated food products that result in waste and recalls is an unavoidable challenge for the food and beverage supply chain. We developed our service to support the transport processes of perishable goods. Our cargo tracking and monitoring service helps our clients to ensure savings, business continuity and customer satisfaction along with sustainability and helps to prevent spoilage on the distribution level" – Stefan Reidy, CEO of Arviem.
Arviem believes ensuring the quality of food requires far more than simply loading goods into a refrigerated container, adjusting the temperature settings and loading it onto a container ship. End to end visibility into the global supply chain is absolutely required to ensure that the products are not deteriorated in quality during transit. Even a single area of weakness within the global supply chain can compromise food safety resulting in significant brand and reputational damage to the supplier. Besides continuous quality monitoring & optimized shipping costs, supply chain visibility solutions also allow clients to mitigate the inherent risks of a global food supply chain ensuring early detection of deteriorated food quality and availability.
"The digital supply chain continues its rapid emergence, bringing with it expanded capabilities that impact visibility, security, compliance and efficiency," –  Lara L. Sowinski, editorial director for Food Logistics and its sister publication, Supply & Demand Chain Executive. "Every aspect of the global food supply chain stands to benefit from new and innovative software and technology that is fundamentally changing the global food supply chain."
About Arviem AG:
Arviem's (www.arviem.com) real-time cargo tracking and monitoring service provides in-transit visibility enabling exporters and importers to develop smarter, more efficient and responsive supply chain operations. As the only full-service provider of real-time cargo monitoring on the market, Arviem makes invisible supply chain operations visible by maintaining consistent data flow. Thanks to Arviem's intelligent cargo monitoring solution, clients are empowered to make educated, well-informed operational decisions while staying in control of their cargo from its origin to its destination.
About Food Logistics:
Food Logistics is published by AC Business Media, a business-to-business media company that provides targeted content and comprehensive, integrated advertising and promotion opportunities for some of the world's most recognized B2B brands. Its diverse portfolio serves the construction, logistics, supply chain, and other industries with print, digital and custom products, events and social media.
Media Contact:
Simona Androvicsova
Arviem AG
+41 41 766 32 16
androvicsova@arviem.com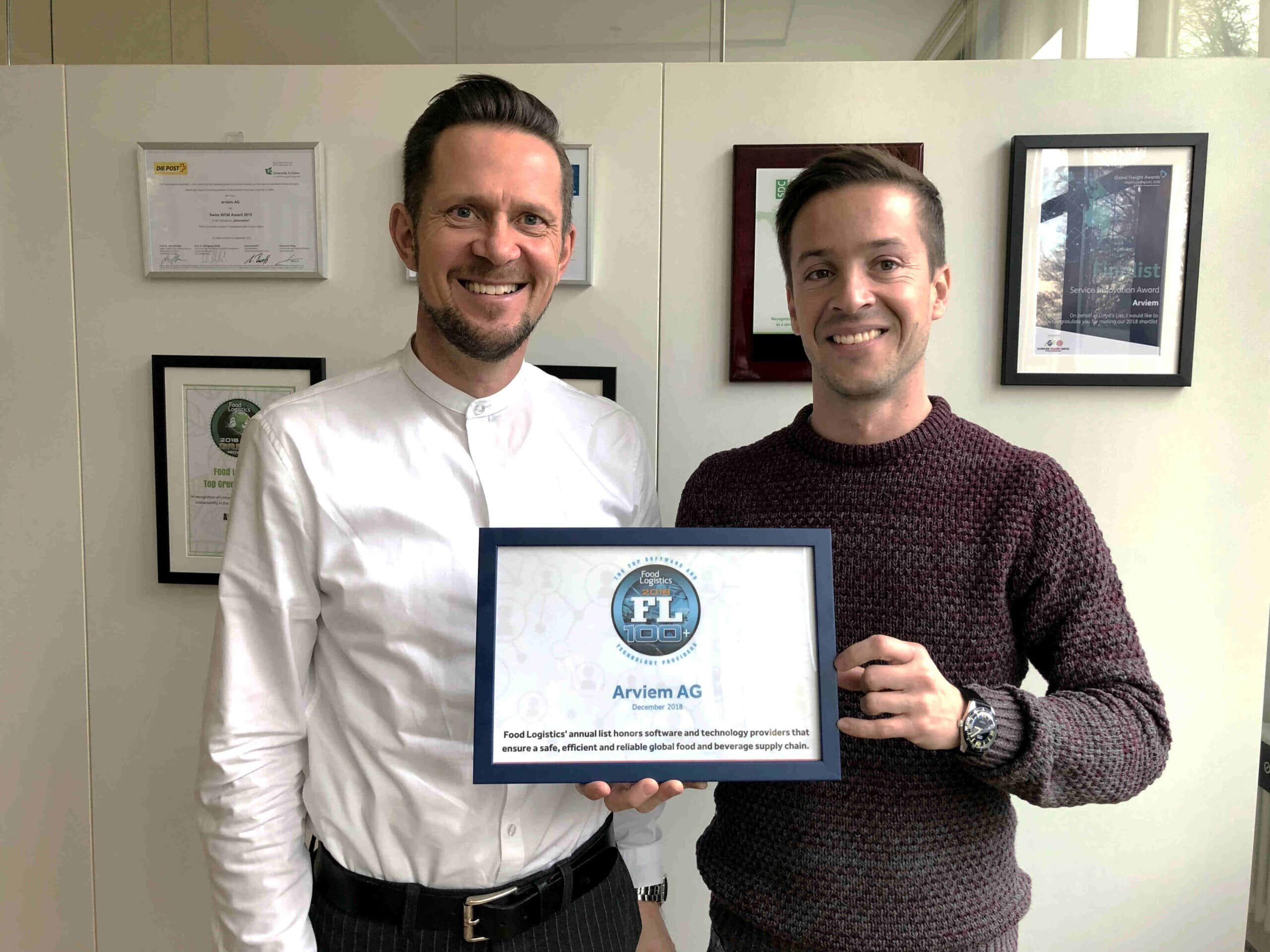 Stefan Reidy (Arviem), Marco Sargenti (Arviem)
Are You interested to learn more?
Watch our video!