June, 2020 – Arviem has been selected as the winner of the 'Best New Supply Chain Finance Provider – Nonbank Europe 2020' award by Global Banking and Finance Review. True to its innovative capabilities, Arviem's supply chain finance service is bringing the physical and financial supply chains together by controlling the flow of goods with internet of things technologies. By combining its state-of-the-art technologies and solving the challenges of obtaining visible, independent and reliable data that is hidden in supply chains, Arviem is able to work with financiers to provide unique financing packages to its clients. Having manifold benefits for both shippers and financiers, the service is well received by both parties. Winning the award from Global Banking and Finance Review reflects the efforts of Arviem for innovation and developing progressing services for the Global Financial community.
"We are honored and proud to receive the 'Best New Supply Chain Finance Provider- Nonbank Europe 2020' in recognition of our dedication to strive for excellence and innovation thereby adding value to our clients. The possibility to improve the working capital position of our clients, especially in these times of crisis, is a critical factor for their success. With our solution we can move one step ahead compared to other existing fintech solutions, as Arviem can unlock the cash trapped in the inventory of the clients, monetizing the value of their inbound and outbound goods" says Fabio Manca, Director Working Capital Solutions, Arviem.
The world of supply chain finance is constantly evolving offering more and more financing options for corporates and their trading partners. Arviem's offering enables its shipper customers to use data collected through monitoring the movements of goods with its sensor devices to be used to optimize and better manage inventory that is extremely important during a crisis for e.g. COVID 19. Unlike other solutions available, Arviem capabilities put intelligence into the comprehensive shipment data by calculating dynamic risk profiles for shipments in transit that allow an unprecedented level of accuracy when assessing risks due to Arviem's unique real-time data. It structures the goods in transit into investment opportunities and offers a flexible FinTech ecosystem to access new ways of funding trade.
About Arviem AG:
Arviem (www.arviem.com) provides IoT based real-time cargo tracking and monitoring service to importers, exporters, shippers, BCO's (Beneficial Cargo Owners) on a worldwide basis. Arviem reveals the flow of goods and finances in the supply chain through providing a carrier independent, real-time, end-to-end cargo monitoring and supply chain visibility service. By then monitoring location, shocks, doors openings, temperature and humidity all the partiers in a transaction can understand what is happening to the goods along the complete supply chain. With this understanding, the parties can now be proactive and take the necessary steps to mitigate losses. This allows the bank to understand the supply chain completely and allocate the correct risk to the trade. Ultimately by improving visibility in the supply chain, shippers can be benefited from improved financing costs and longer financing period.
About Global Banking & Finance Review:
Global Banking & Finance Review® is a leading Financial Platform established in 2010 – A Media Powerhouse with its own Online Portal, Print & Digital magazine reaching over 3 million readers worldwide on an annual basis. The platform has a global reach with readership includes Presidents, CEO's, CFO'S and Senior Decision makers within Fortune 500 companies, Major Banks, Financial Institutions, Central Bank, and Individuals interested in financial markets and news.
Media Contact:
Simona Androvicsova
Arviem AG
+41 41 766 32 16
androvicsova@arviem.com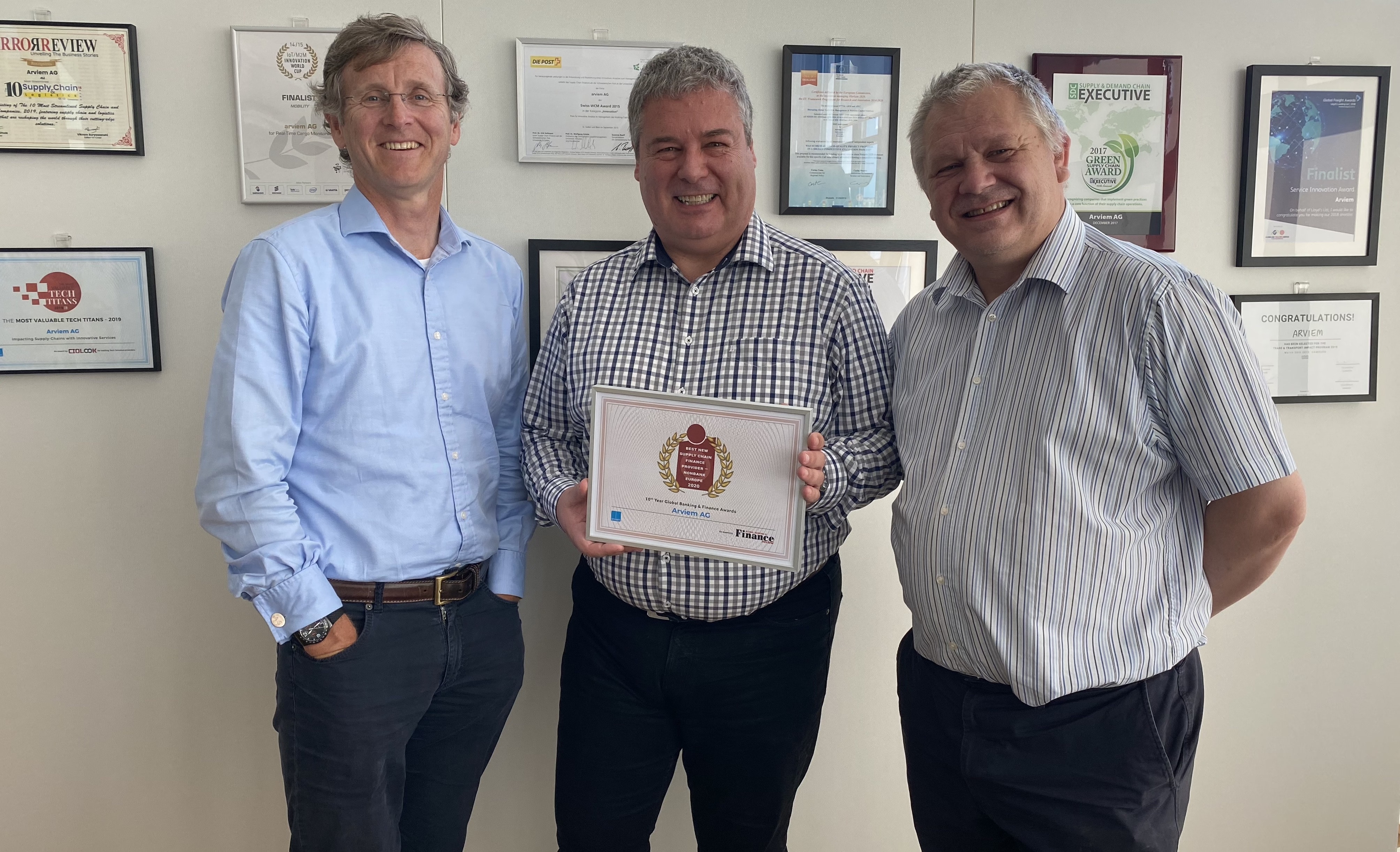 Aidan Shilling, Fabio Manca, Ian Trow
Are You interested to learn more?
Watch our video!