With the ongoing trade challenges due to the ongoing pandemic, certainly global supply chains will be going through significant changes, including changing suppliers around the globe, setting up new trade lanes, changing transport modes, etc.  As a result, optimizing logistics networks and executing them will be a critical success factor for companies around the globe. Performance reporting with real-time data is the key to improving logistic processes and understanding and recognising 3PL performance. Global shippers can rely on real-time and historical cargo monitoring data from IoT sensors to assess and improve their transportation networks' performance that will benefit their entire supply chain. This is elaborately discussed in our webinar titled 'Use supply chain visibility to optimize your global transportation network and assess the performance of your logistics services providers – a webinar with practical use cases'.
Global shippers, even in the best of times, continuously deal with a variety of challenges. To move the cargo around globally, Beneficial Cargo Owners, Importers and Exporters rely on a wide range of partners to move their cargo. Steamship lines, NVOCCs, freight forwarders, customs brokers, trucking companies, ports, among many others, are few to mention. Each of these partners has its own information silo, holding data important to the shipper, which is often passed along from partner to partner in the supply chain, creating a lack of transparency for the shipper. The recurring challenges causing inefficiencies in global logistics networks occur due to a lack of transparency between various players involved.
Common inefficiencies in 'logistics networks' can be put into 3 categories
Inefficient container routings: Often the journey of a container in transit deviates from its predefined route or sits idle at an undesired location on its transit route. One of the examples from Arviem Monitoring platform is explained here to understand how real-time data helps to make strategic decisions when routing issues arise.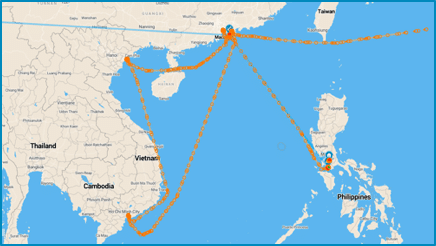 Here's an example of a circuitous container routing from California to the Philippines, where the containers were transshipped in Port of Hong Kong.
The vessel from California first stopped in the Port of Yantian in Shenzhen, China. It then continued onto Vietnam and Cambodia before returning to Hong Kong, where the containers were unloaded to be transshipped on the vessel to the Philippines. This part of the journey took ten days. The containers sat in Port Hong Kong for 21 days waiting for the vessel to the Philippines, which is only a three-day trip.
Armed with real-time insights and analytics from real-time cargo monitoring, the shipper can take immediate action. One is to estimate the impact of this routing on working capital on an annualized basis. This shipper ships several hundred containers a year on this lane. The shipper can then look for faster lanes to the Philippines. They can also evaluate the trade-off between paying more in ocean freight for faster service and reducing working capital vs. paying less for a slower service but tying up capital for a longer period.
Bottlenecks at ports: The bottlenecks of waiting are observed at many ports around the world. Not only can vessels be required to wait several days to enter the port, but once cargo arrives in port, it can get stuck for days, weeks, or more. This creates uncertainty and delays that trickle down through the entire supply chain. Bottlenecks can be so severe that containers end up spending more time idling in ports than at sea, especially where containers need to be transshipped. In the example above, the containers' journey took 53 days for what should have been a 15-day trip. Containers spent 33 days in ports? in total, and the LSP did not notify the shipper of these delays when they happened.
With the real-time data and insight, the shipper in this case can approach their customs broker and carrier to find out why these delays are occurring. Could that be that steamship lines are cutting back capacity increasing blank sailings? Or did the consignees not have the paperwork to clear the containers on time? With the source of delays known, shippers now understand what happened, and they can meet with their LSPs to know why it has happened and take corrective measures.
Cargo quality and security risks: Cargo staying for longer halts on the sea, at ports, or customs, is not only causing delays but also imposing quality and security risks. The cargo might need to endure high temperatures and high humidity and may be exposed to other external conditions that are unsuitable for perishables not to mention the security risk caused by multiple door openings. Careful management of perishable goods throughout the supply chain is essential. The amount of time during which the quality of perishable goods remains acceptable is short. The deterioration of product quality over time may lead to food safety issues and waste.
With real-time data insights, shippers can approach their customs broker, express their concerns, and see if there's a way to pre-clear containers to skip this warehouse. Alternatively, the customs broker now knows of the container door openings and can address the customs authorities who run the warehouse to beef up security. Additionally, if any of the issues appear on a recurring basis, beneficial cargo owners can use the data to address the identified inefficiencies.
Independent real-time reliable data strategically helps to implement continuous improvement initiatives in a supply chain organization
The data collected with cargo monitoring solutions enables beneficial cargo owners to assess and improve their transportation networks' performance while also evaluating the performance of their logistics service providers. Using IoT enabled sensor devices on shipments to monitor the location and condition of cargo while it is in transit allows shippers to gain an unprecedented level of insight into the performance of their ocean carriers, dray carriers, port operators, and warehouses. This level of insight is crucial to making the right decisions about changing their transportation networks – which can be of interest not only during the Coronavirus crisis but also when 'business is as usual'. Using real-time cargo monitoring data enables companies to identify actual transit times per route/leg, bottlenecks, and black holes, and uncover previously unknown risks in their global transportation networks.  This data pool, built up over time, becomes a strategic asset that will enable global shippers to identify poor performing routes, shipping legs, logistics service providers and develop and implement continuous improvement initiatives to optimize their supply chains. Some of the actions are network redesign, adding new raw materials or finished goods suppliers, establishing new routes to market. These are just a few practical examples to be named. We are sure you would like to know the detailed concept in our webinar recording.