The news called it a historic agreement, when U.S. President Barack Obama and Chinese President Xi Jinping announced in a historic climate change deal, that both countries would curb their greenhouse gas emissions over the next two decades.
The agreement will give confidence to both companies and investors to support clean energy investment and technological innovation that will ensure the necessary capacity to meet or exceed the stated targets.
To quote Nike again: Just do it!
The idea and the objective is not new, but the agreement sends a powerful signal to the business community, which is pushing more forcefully for coordinated policies and clear market signals to deal with climate change.
For example: Nike's environmental goal for logistics and transportation is to achieve a 30% reduction in carbon emissions by 2020. This is a pretty aggressive goal taking into account a growing business.
The US-China agreement may supports Nike's (and other companies') strategic decision and hopefully encourages many other companies to follow.
Raw materials and production processes are usually the main drivers for the carbon footprint – but the logistics chain with over 10% is also one of the main contributors.
As the mode of transport (e.g. vessel, train, truck) is not under direct control of the shipper, the shipper is
either depending on all its logistics chain partners to consistently provide data, or
 monitoring the shipments itself with an independent monitoring solution
in order to track, report and ultimately reduce the logistics emissions.
Real-time cargo monitoring could provide the relevant information, help to select areas of improvement and monitor the improvement year after year.
Improvements in the logistics chain are not only good for the environment. Less emissions usually also translate to less logistics cost, less capital cost, less insurance, etc.
To quote Nike again: Just do it!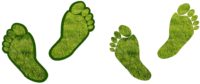 What about your Carbon Footprint?