No more shipment tracking in Excel sheets: How to achieve shipment visibility via container tracking and/or sensor-enabled cargo monitoring 
Your questions answered on the approaches towards achieving shipment visibility, how to choose the best fitting solution for your needs and how to leverage the data to cut costs
Eliminate the need for emails, calls, and manual shipment tracking on carrier websites
Do you really have reliable information on where your cargo is while in transit? Do you have sufficient and timely transparency of each leg of your supply chain? Do you know what conditions is your cargo exposed to and how you can both safeguard quality and optimize costs? Think twice. Today's supply chains are global and complex and there are known vulnerabilities and inefficiencies that impact your supply chain. Supply chains are mostly a black-box. They are managed by supply chain professionals by outcomes, being reactive to disruptions as they arise not knowing where the inefficiencies are.
Transform your global cargo operations! Join our webinar which will help you understand how container tracking and sensor-enabled cargo monitoring can help you manage costs, reveal vulnerabilities, and build leaner supply chains.
In this webinar you will learn:
✅  The various levels of shipment visibility you can achieve
✅  How to choose the best fitting visibility solution for your needs: Shipment tracking and/or sensor enabled cargo monitoring
✅  How to leverage the data collected through visibility solutions to cut costs, eliminate inefficiencies and build leaner supply chains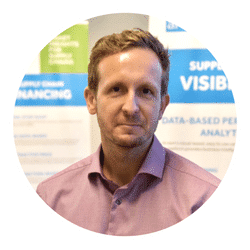 Jan Pietruska, Director Business Solutions at Arviem
Jan is a supply chain enthusiast with passion for digital technologies. He is helping companies primarily in Europe to implement shipment visibility solutions and to leverage the learnings generated by increased supply chain visibility.