Global supply chains are becoming more complex every day and with complexity comes uncertainty. While supply chains are exposed to disruptions at an unprecedented level, the daily work of supply chain professionals is still largely dependent on outdated processes, information sharing through phone calls and emails and data storage across organisational silos in multiple excel sheets. To demonstrate, while moving goods internationally along the supply chain, shippers are using multiple carriers and transport modes which makes it challenging to find a single source of truth for all logistics data. Lack of visibility and transparency across the supply chain leads to decreased productivity & efficiency, increased administration costs and it might lead to damage to brand reputation resulting from an unfavorable customer experience.
This shows that in our global economy, the challenges of providing seamless supply chain solutions across geographical and cultural boundaries have increased. It is now more important than ever to implement visibility strategies targeted to your organisation's needs and matching the available resources. Selecting a technology vendor that can be a trusted supply chain visibility software provider requires a strict assessment process. While there are more and more supply chain visibility software providers popping up on the market, it is becoming more difficult to decide which vendor to choose from the many who are offering similar solutions. Choosing the wrong technology vendor can not only negatively affect the company's bottom line but also tie up costly resources during implementation. To be sure that your solution provider is dedicated to performance, compliance and to a set of predefined standards and KPIs is absolutely necessary. To help you decide on your next supply chain visibility software provider, we summarised a few important points to consider before signing up for a service offering.
Here are the 7 aspects to consider when choosing a supply chain visibility software provider:
Proven track record/Customer experience
A positive customer experience from the solution provider is the key to a greater return on investment. From the initial consultation on monitoring device installations until the device return within the supply chain, businesses require considerable support from their service providers. There are several supply chain visibility solution providers popping up on the market, many of these are still in a too early stage to be able to offer a viable, scalable solution. Make sure you chose an organisation that has a proven track record of clients and high-quality industry references. This can be attested by the experience/expertise in business collected during many years of operation. Companies that are able to deliver on service quality and promised innovation are the right choice by the customers.
Is the scalability and simplicity of integration with legacy systems guaranteed?
Legacy technology is no longer flexible or functional enough to meet the industry's growing standards. When searching for a supply chain visibility software vendor, look for vendors who offer a technology that is built on the latest framework for scalability, that functions best for cloud applications. Moreover, integration speed with your legacy systems is crucial to your ROI so look for solution providers that offer easy API integration. APIs are the preferred method for connectivity, they make it possible to integrate information from various systems to internal legacy systems. For example, data about the location and condition of container shipments are managed by integrating APIs to the central supply chain visibility software, displaying near-instant access to any data collected from IoT sensor devices riding along with cargo. APIs are one piece to a much bigger data system and solution. For instance, they are the gateway to predictive analytics. In an age of must-have transparency, scalability and the ease of integration are vital selling points when considering any potential supply chain partnership.
Does the supply chain visibility software provide analytics capabilities?
Analytics capability of a solution helps in achieving the efficiency of supply chain processes my highlighting blind spots and inefficiencies. The ability of being proactive and anticipating the future is what is making predictive analysis the next big thing in supply chain business intelligence. Improving forecast accuracy, optimising transportation performance, improving product tracking & traceability and analysing product returns are the use cases with the greatest potential for analytics growth within the supply chain. Collecting data is not enough, having reporting capabilities to providing easy to digest information on a user-friendly representation is equally important. Reporting is one of the features in supply chain visibility that enhances the transparency to the information needed for making decisions and doing predictive analysis. A platform that captures the information, creates and formats the reports you want and delivers it in an easy-to-read and organised way gives you the best option.
Does the solution provider use the latest technology?
Technology is becoming the key driver of innovation and is helping any organisation achieve a competitive edge. The companies which do not choose to invest in technology can often find themselves being left behind. In order to bring efficiency into the total production process, it is important that the solution provider of supply chain visibility software has clear sight into the use of up-to-date technology. Vendors that use the technology that provides the ability to automatically and securely collect, transmit, and share data to track, monitor, and manage shipments in transit are the right choice. This brings the necessary transparency into the whole process of moving goods along the supply chain. It allows you to have better control over product flow and information flow across the supply chain. Deploying proper technology can minimize supply chain risks and can help in creating an easy, cost-efficient and more accurate shipping process. Selecting a solution provider which is up-to-date with the technology solutions and places focus on innovation is your first step in making the right choice of a supply chain visibility vendor.
Is your data secure with the selected vendor?
Security is one of the most vital aspects of a best-in-class supply chain visibility platform. If customer data and business-critical information are involved, keeping it secure should be your priority. Today's cutting-edge IT systems and mobile data collection solutions provide comprehensive visibility by sharing data. All technologies being used by supply chain visibility solution providers demand to share a large amount of data with telematics devices and software. This helps to solve problems with real-time data, which in return helps supply chain professionals in identifying success or failure during various processes early enough to be empowered to change the outcome. However, a large amount of information exchange may compromise security. Cyber-attacks on logistics companies and shipping operators are becoming more frequent leading not only to financial losses but also to damage to their brand image. Customers mark security their highest priority and it is imperative that you consider this while selecting a supply chain visibility software provider.
Does the supply chain visibility vendor offer a complete service including the reverse logistics of sensor devices ?
Most of the supply chain visibility software providers rely on sensor devices for collecting and transmitting real-time data to the supply chain visibility platform. A visibility service provider that offers a streamlined reverse logistics of sensor devices can provide additional value to your organization. By taking care of the delivery, repositioning and maintenance of sensor devices, vendors provide an additional service without letting you worry about anything. No new staff or processes are required for handling the movement of devices across the organizations. This saves you time and money while reducing complexities in the supply chain management process. By taking care of reverse logistics, the supply chain visibility vendor ensures that the arrival and return of monitoring devices is handled quickly and efficiently at the right time and at the right location. Also, by having the repair and maintenance of devices as a part of the reverse logistics service, enables you to gain supply chain visibility as a part of a carefree service without the need to take care of the devices yourself.
How easy is the supply chain visibility software to use?
The usability of a supply chain visibility platform is a factor that cannot be overlooked when choosing the solution provider. Your staff will be using the platform on a daily basis, so providing them with a technology that has an intuitive and flawless user experience is important. Users should not have to search for the next clicks when trying to accomplish a task. They should be able to intuitively and easily navigate through the information they are seeking. An intuitive to use software design provides greater visibility into how orders are processed, what products are being delivered, whether they have been shipped or are in-transit  This also enables supply chain professionals to take immediate actions to prevent any disruptions that might occur. Choosing a platform that has an element of fun and entices its audience to come back for more will provide you with a distinct competitive advantage.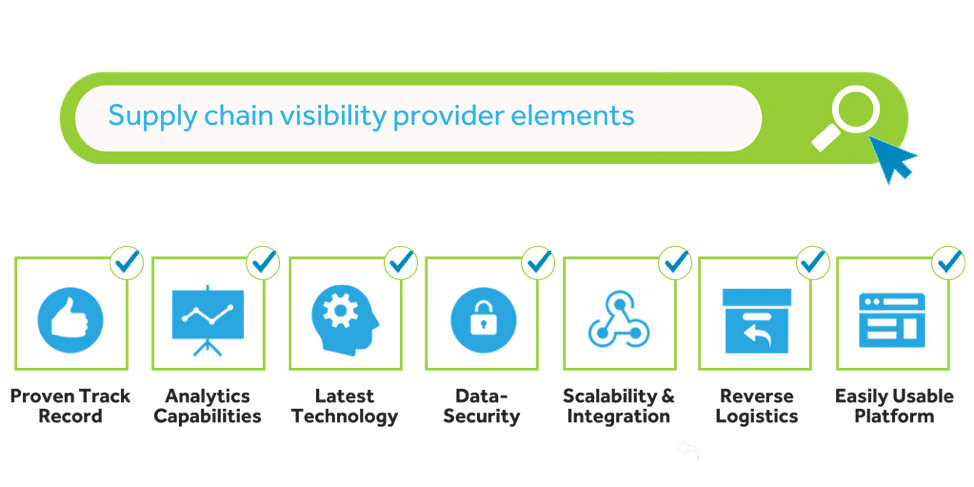 In summary, end to end supply chain visibility has emerged as a "must have"  in global supply chains. It provides actionable data and helps companies to decrease the impact of disruptions on the supply chain. Thanks to the constant flow of data and insights provided by real-time cargo monitoring, companies are able to uncover the unknown by revealing supply chain related issues. In-transit visibility creates vast opportunities for supply chain optimisation. Thus, it is now critically more important to wisely choose a platform that adopts the latest technology, provides integrity and scalability, guarantees data security, and easily converts the data into business intelligence for making informed decisions.
Arviem's supply chain visibility solutions support their users in the efficient management of strategic, operative and financial supply chains via enabling real-time data-driven decision making. The installed automated locating and sensing technology on multimodal containers and cargo addresses the need of decision makers for end-to-end, timely, quality data. Arviem offers a wide array of services that are transforming supply chains by combining the latest sensor technology, big data, and clever data analytics methodology with easy integration to your current system. Arviem's cloud-based infrastructure and supply chain visibility software is an enabler for the transformation of the collected data into actionable information. To learn more, visit www.arviem.com