Freight Visibility is no longer the best-kept supply chain secret, it's a must. It has and continues to be a high-priority area for investment by supply chain professionals. As shippers have deepened interest in the safe and secure transit of goods to meet critical on-time delivery KPIs by their customers, freight visibility is becoming more critical . The freight industry has been trying to create a real-time information flow on the location of transported goods for decades now. However, what carriers offer currently is based on outdated and incomplete data generated only when the cargo reaches certain milestones. The traditional concept of freight visibility relies on carrier dependent milestone-based data resulting in logistics blind spots for the shippers. In-between the checkpoints, companies lack the visibility to know where their inventory is located, whether carriers are providing the right service levels, and where the bottlenecks and inefficiencies are in the supply chain. Without knowing the complete view on the whereabouts and status of cargo, supply chains are only getting a piece of the puzzle, limiting their ability to optimize operations. Gaining complete, accurate, and real-time independent data on the location and the condition of the cargo – also known as 'highly-reliable' data – allows stakeholders to manage exceptions proactively and is in high demand among shippers and their customers now.
Real-time freight visibility: it's all about the constant flow of reliable, independent data
While the need for better, more granular freight visibility has been around for a long time, the technological innovation that could serve as the enabler of this supply chain evolution was missing. Thankfully, by the ever-increasing availability of IoT technologies; and its application along with big data, reliable visibility into the supply chain can already be achieved today.
End-to-end freight visibility brings real-time transparency in the following aspects
Is the container on a certain vessel?
Has the vessel left the port of departure?
Where is the vessel?
What is the estimated arrival time at the port of destination?
Has the vessel arrived at the port of destination?
Has the container been transhipped?
What is the condition of the cargo in transit?
Has the cargo been tampered with?
An IoT enabled solution for monitoring shipping containers and cargo goes beyond milestone-based visibility, it allows to monitor the cargo at any time and globally. Most of these IoT enabled freight visibility services also provide an analytical approach to the collected real-time data through various data analytics platforms. This helps to build up more information and makes the seamless use of the information to improve the supply chain processes, demand forecasting, and business planning possible. The accumulated trustworthy carrier independent data helps to save money by reducing inventory when demand is expected to be low, improve the on-time deliveries, and respond more quickly and proactively to potential issues.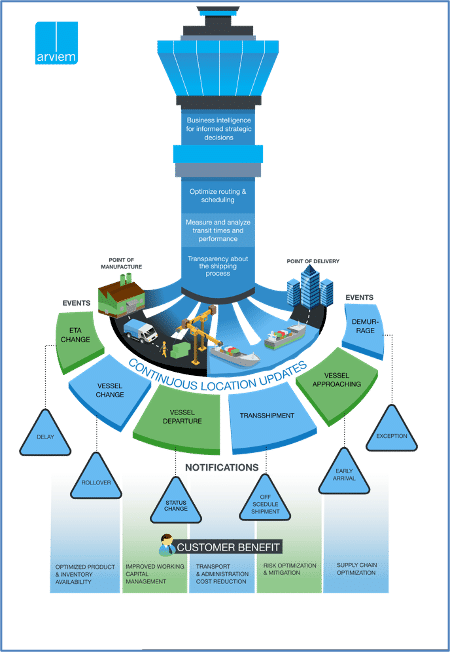 Let's look at what is driving the adoption of freight visibility solutions. You might even realize, that your supply chain would also benefit from such a solution to optimize your processes
Complex global supply chains are prone to disruptions
Freights of all shapes and sizes are on the move around the world in breakthrough numbers. With supply chains becoming exponentially more complex and globalized every year, the severity and frequency of supply chain disruptions seem to be increasing. Research from the BCI's 2018 report found that 56% of respondents had suffered a supply chain disruption in the past 12 months. Moreover, with the prevailing COVID 19 pandemic, research states that 94% of Fortune 1000 companies see supply chain disruptions from COVID-19. Thus, the freight journey within a shipper's care is, importantly, becoming one of the leading concerns for shippers. According to a recent study, second to cost reduction, 75% of shippers rank freight visibility as a major concern in their supply chain. Knowing where the cargo is and in what condition with the help of freight visibility solutions, equips shippers and cargo owners to react to disruptions on a timely manner.
"75% of shippers rank freight visibility as a major concern in their supply chain."
Logistics and supply chain inefficiencies cause monetary losses
In transportation, a lack of visibility can create inefficiencies that impact upstream and downstream activities. These result in unnecessary costs in the form of exploding demurrage and detention charges, higher carrier rates, and more. Companies lose large sums of money due to operational inefficiencies and manual planning processes. The flawed processes and practices lead to hidden, escalating costs that add up and take a tremendous toll on bottom lines. End to end freight visibility offers a single platform where everything from early-stage plans through final delivery can be tracked and traced in real-time on a global scale. One can locate goods and control the status of any item, shipment, event, partner, report, or ETA of a product's journey in real-time. It helps to handle disruptions, suggest alternatives, measure impacts, and communicate on a massive scale, avoiding inefficiencies and flaws in supply chain processes.
"With time, companies are increasingly recognizing that freight visibility and higher customer service levels go hand in hand."
Customer expectations are changing at a faster rate where 'ignorance is not bliss'
Thanks to the growing competition within the marketplace, every individual has increased options for products to consume. Every individual and company demands better and faster service. Increased opportunities give clients the liberty to demand more. Clients are now intolerant of the late deliveries or the deteriorated quality of products after transport. A late shipment or unreported delay can have a ripple effect on the productivity of a supply chain. For example, a factory might need to either sit idle or ramp up a production line to compensate; a retailer may have to work around an inventory shortage on store shelves. A distribution operation may need to adjust staffing on its loading docks. With end-to-end freight visibility, information about shipments in transit can be made readily available to all stakeholders. The demand can be reshaped, and supply in-transit can be redirected whenever necessary.
Business expansion opportunities are the need for every shipper
In a business as dynamic and complex as managing supply chains, technology is crucial to maintaining efficient, productive, and flexible operations. Combining real-time tracking with big data analytics gives a new business paradigm to shippers, cargo owners, brokers, carriers, or 3PLs. The combination allows them to predict when to schedule new shipments and where they should concentrate future business. Thanks to the ability of freight visibility, it can give your customers the data to better forecast demand, so they will not run out of something in busy or lean times. Visibility empowers you and your customers to know where the goods are and if they are exposed to any risk while in transit, and track shipments or transactions as they move through every point and company. Transparency in the supply chain is thus the foundation that will allow warehouse managers to ensure the right materials are in the right place at the right time to leverage the best in production capabilities and efficiency. Thus, a complete view of activity within a company's supply chain network will lead to more opportunities in monetary savings and overall growth.