Improving supply chain transparency is a high priority for companies, especially in industries such as the food and beverage industry where consumers and regulators are pushing for more information on how products are made and transported from the point of manufacture to the point of delivery.
Supply chain visibility has significant benefits for supply chains operations. An effective supply chain visibility solution together with a well-developed traceability strategy allows organizations to see where each ingredient came from and where the finished product is heading. This end-to-end visibility is the key to resilient supply chains and becomes especially important when facing disruptions in the supply chain or crisis situations such as recalls. The visibility and the data provided by IoT solutions in the food chain allow organizations to significantly reduce supply chain risk by enabling the company to either take action to prevent disasters or to respond to disruption by activating backup plans.
Real time data is the key to ensure product quality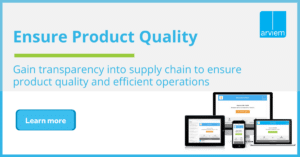 Increasing supply chain efficiency begins with making use of reliable, relevant real-time data of locations and conditions of products in transit. This provides the essential data for performance improvement initiatives and end-to-end visibility of the extended supply chains. Monitoring cargo condition for parameters that can compromise product quality optimizes the inspection process. Instead of inspecting every single container upon arrival, the quality assurance team can only inspect containers where the temperature or humidity exceeded predefined thresholds while the cargo was in transit.
Supply chain visibility helps to reduce supply chain risk in many ways:
Reduced food waste: Knowing what happens throughout the supply chain helps to reduce food waste.
Reduced recalls: Continuous data on cargo integrity enables organizations to prevent, rather than react to recalls.
Compliance with regulations: Ability to meet food safety and food security requirements as well as import and environment regulations.
Mitigate supply shortages: Continuous data flow enables supply chain managers to build resilient supply chains.
Ensure consumer safety: Unbroken data streams help to mitigate foodborne illnesses improving brand and corporate reputation.
React to disruptions: Real-time alerts and information enable supply chain leaders to proactively address disruptions.
If you are interested in our supply chain visibility solution read more here or contact us!